Registration for fall classes opens on the parent portal on Tuesday July 18th at 10am!
AIR FORCE GYMNASTICS PROVIDES GREEN BAY AND THE SURROUNDING AREA WITH WORLD-CLASS GYMNASTICS INSTRUCTION. OUR HIGH-QUALITY GYMNASTICS PROGRAMS PROMOTE THE PHYSICAL STRENGTH, FLEXIBILITY, AND COORDINATION THAT WILL BE THE FOUNDATION FOR A LIFETIME OF FITNESS AND THE PRINCIPLES OF DISCIPLINE, RESPECT AND CONFIDENCE THAT WILL LEAD TO A LIFETIME OF SUCCESS.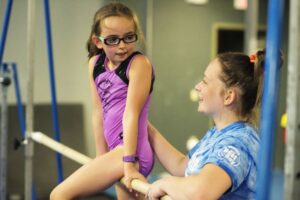 Recreational Program
From our fun, creative and challenging preschool classes to our exciting and motivating school-age classes, our recreational gymnastics program has something for everyone!
Hosted Meets
With over 100 state champions, dozens of regional qualifiers and a 2013 national qualifier, our award-winning boys and girls competitive team programs are among the best in Wisconsin!
FIND US ON FACEBOOK!
Stay up-to-date with Air Force Gymnastics news and notes!